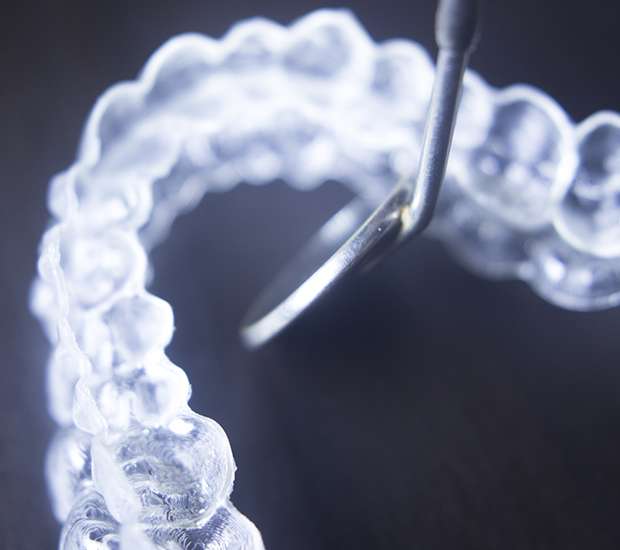 Invisalign
Belmont, MA
While people may not be fond of braces, they are fond of straight teeth. Fortunately, there is an alternative option to braces that we offer patients. At Belmont Smiles, we can use Invisalign® to help straighten teeth discreetly so patients achieve the smile they desire.
What is Invisalign®?
Invisalign is an orthodontic treatment that is effective for correcting orthodontic issues, to give patients a straighter and more balanced smile. Since it is made up of clear, removable aligners, this option of teeth straightening offers more flexibility and discretion than other options.
The aligned smile of your dreams is a possibility with Invisalign.
Invisalign treatment involves a series of customized clear aligners. These aligners are light plastic trays that induce constant pressure on the teeth to influence their movement. Patients will replace these aligners every two weeks. They are somewhat similar in appearance to traditional mouthguards, created from thin, lightweight, transparent plastic.
The aligners must be worn at least 22 hours daily and removed only during meals, flossing or brushing. Having the aligners on your teeth and receiving routine replacements will help to shift the teeth slowly until they are in the desired position. Adults are attracted to Invisalign for several reasons – it can correct orthodontic issues such as overbites, crossbites, underbites, unevenly spaced teeth and overcrowded teeth.
While teenagers are also candidates for Invisalign, it is more on a case by case basis since Invisalign requires a higher level of responsibility with the care of it. The benefits of Invisalign include:
Being nearly invisible, in contrast to conspicuous metal braces
They cause less irritation to the teeth, cheeks, and gums
They allow normal brushing and flossing
They have a low impact on day-to-day activities
A better option for patients who want discreet treatment
They are removable for special occasions
They are comfortable and virtually painless
Patients can still enjoy their favorite meals during this treatment
The Process of Invisalign
After the first consultation with our orthodontic team, a 3D digital representation of the patient's teeth will be created. The image will help create a series of customized aligners. At this stage, we may be able to provide a visual representation of what the teeth will look like after treatment.
The patient will wear each set of aligners for two weeks before moving to the next set. In most cases, the patient will have all the sets at home and will have to keep track of when to change to the next one. The treatment may last about nine to 18 months.
Although the required number of aligners is not the same for every patient and their treatment plans, between 18 to 36 aligners will be necessary to obtain the desired outcome. In many cases, the patient will wear the aligners for two weeks at a time.
Maintenance with Invisalign
As mentioned earlier, Invisalign aligners must be worn for at least 20 to 22 hours daily. They must only be removed for brushing, eating, and drinking. Consuming hot drinks or eating with Invisalign on the teeth may cause damage to the aligners. Since the aligners cover the teeth entirely, it is vital to brush after eating to prevent food from getting trapped beneath the aligner.
Aside from staying faithful to wearing the aligners, patients must also keep up with regular checkups. This will allow us to monitor the progress of the treatment and provide a new set of aligners to use until the next appointment.
Who is an ideal candidate for Invisalign?
Although Invisalign is ideal for most people, the aligners are not enough to treat specific orthodontic issues. This is why an initial assessment by us is necessary to determine if the patient is an ideal candidate for Invisalign. Usually, patients with severe orthodontic issues cannot benefit from Invisalign.
Teenagers are typically more conscious about the appearance of their smile than adults and appreciate the discrete properties of aligners. There is an exclusive Invisalign product for teenagers which follows the same technology and process but with a few additional modifications. A small indicator is on the aligner to remind the teenager when it is time for a replacement – the light turns from blue to transparent.
In conclusion
The results produced by Invisalign are as durable as results from conventional braces. However, regardless of the treatment method, teeth are prone to relapse without proper after-care.
If you have crooked teeth, the first decision is to book an appointment with us for a dental evaluation. After that, we will be able to recommend appropriate treatment to give you straighter teeth.
Recent Posts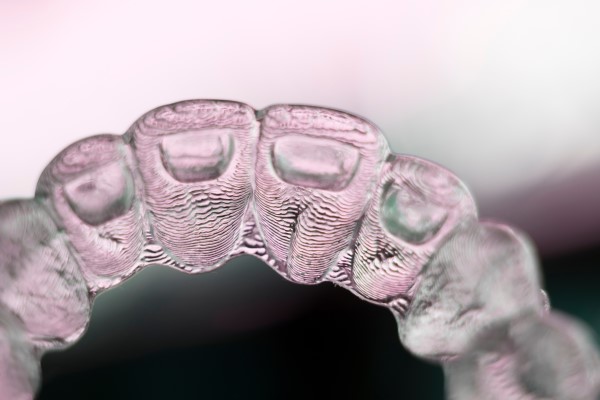 Wondering whether general dentists can provide orthodontics for their patients? Yes, they can. While not all dentists offer orthodontic services, having straight teeth is important to dental health. Fortunately, clear aligners are one of the more popular straightening options that dentists can offer.Learning more about orthodontics is a great idea for anyone who wants or…